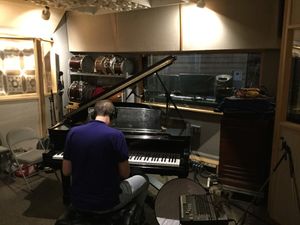 MAKE YOUR MOVE
(Cellar Music - released 5/21/21)
Ray Gallon's trio album features David Wong on bass (Roy Haynes, Heath Brothers, Hank Jones) and Kenny Washington on drums (Ahmad Jamal, Betty Carter, Dizzy Gillespie, Sonny Stitt, Bill Charlap, Tommy Flanagan). While several of Ray's original compositions have been recorded by jazz luminaries (such as T.S. Monk, the Harper Bros), and he has played on many recordings over the course his forty-year career, (including a Grammy-nominated Lionel Hampton album, and on projects with Ron Carter, Grady Tate, George Adams, The Harper Brothers), this will actually mark Mr. Gallon's debut album as a leader. What you'll hear on the project is the result of fine-tuning the featured compositions and arrangements on over more than a thousand live gigs in the jazz capital of the world, New York City.
Ray Gallon (p), David Wong (b), Kenny Washington (d)
Read more…
Ray Gallon (p), David Wong (b), Kenny Washington (d)
Read more…
PROJECT BACKGROUND  
Ray met and quickly became friends with Kenny Washington (https://en.wikipedia.org/wiki/Kenny_Washington_(musician) 35 years ago when he worked at a Manhattan record store. They quickly bonded over our enthusiasm for music and jazz history. David Wong has been one of Ray's first-call bassists for many years. The trio was excited to come together to finally record Ray's original tunes alongside his arrangement of two classic standards. "My originals have been played for many years on the New York City jazz scene and have become something of favorites for the musicians I work with, as well as for local fans in the City. I finally felt the arrangements and the tunes had been perfected, and that they were ready to record and share with the wider world," said Gallon.  
Listeners can anticipate a swingin', playful jazz album rooted in bebop and the blues with eleven tunes and a running time just under an hour. The arrangements give each of the band members a chance to shine. 
The album was recorded and mixed by award-winning engineer Michael Brorby at Acoustic Recording. Michael has recorded for many top jazz pianist artists, (including Kenny Barron, Bruce Barth, Fred Hersch, Mike Le Donne, Brad Melhdau, Mulgrew Miller, Kenny Werner). More info and a client list can be found: https://acousticrecording.net/client-list  
The mastering was done by Grammy-award winning Dave Darlington (renowned for his work with Macy Gray, Herbie Hancock, Wayne Shorter, Bruce Barth, Sting, Chaka Khan, Tom Harrell, Janet Jackson to name but a few). 
Press and Coverage of 'Make Your Move'
SEE THE EPK PAGE FOR PRESS QUOTES AND REACTIONS TO THE RECORDING FROM ACCLAIMED JAZZ ARTISTS
Read the Associated Press article that was picked up by hundreds of publications around North America:
Pianist Ray Gallon's debut recording, Make Your Move, certified, approved and endorsed by the legendary Ron Carter, who contributed the liner notes, comes to us after more than three decades of Gallon plying his trade on stages and in studios around the world with the crème-de-la-creme of jazz. The NYC native (born in 1958), and longtime professor (currently a full-time faculty member of the BFA Jazz Program at The City College of New York), finally leaps into the fray as a bandleader with a stellar debut, featuring his favorite trio of first-call drummer Kenny Washington (the "Jazz Maniac") and the much sought-after mainstay on the scene, bassist David Wong (Roy Haynes, The Heath Brothers, Clark Terry, Illinois Jacquet, Benny Green, Eric Reed, Wynton Marsalis, and many others). The exemplary trio is comprised of artists all born and raised in New York City! 
Released May 21, 2021 on Cellar Live Records
Below is a live video of Ray on tour in Vancouver, BC with local Vancouver musicians, Paul Rushka and Jesse Cahill: